"I was born in London, but lived in Norfolk for most of my childhood. Though never a Chorister, I sang as a treble in school choirs until the age of about 14, when I convinced myself and others that my voice was breaking (it wasn't), and pretended to be a countertenor. Fast forward a few years, the wind changed, and here I am, still a countertenor. I suppose it's in my DNA…"
Tell us a bit about yourself, your training and career to date.
I was lucky enough to be offered an Academical Clerkship to New College, Oxford, where I sang for four years, under Edward Higginbottom and then Robert Quinney, while reading Classics. Since graduating in 2015, my route to singing professionally has been circuitous: I worked in a tech startup for a few months, and then took a one-law conversion course, before realising that neither of these endeavours made me nearly as happy as singing does. I now work solely as a freelance singer, living in London, and studying privately with Susan Roberts.
How long have you been involved with the Oxford Bach Soloists?
My close connection with Oxford, and indeed with Tom Hammond-Davies (we sang next to each other in my first year in New College Choir) has led to fruitful involvement with OBS as a soloist: in the St John Passion on a few occasions, and in Cantatas BWV 54 and BWV 115, the latter as part of the Oxford Lieder Festival in 2016.

What other musical ensembles are you involved with?
I've sung a number of times with the Instruments of Time and Truth (also-Oxford based), and I look forward to performing with them in Kings Place, London this October. I'm a regular member of The Tallis Scholars and the Gesualdo Six, which allows me to stay in touch with the repertoire I grew to love while at New College: renaissance polyphony and contemporary choral music (and of course the wildly esoteric and enigmatic works of Gesualdo himself). Further afield, I sing with Vox Luminis, an ensemble made up of solo singers and based in Belgium, with whom I have encountered a wide range of Baroque music by European composers, many previously unfamiliar to me.
Tell us some of the highlights of your career to date.
I'm not sure I've yet reached the same level of giddy excitement as came over 15-year-old me when I played recorder for the Queen as part of my school consort. But close contenders include Handel's Messiahlast Christmas at the Palau de la Música in Barcelona, Bach's B Minor Mass live on Dutch radio in the Grote Zaal in Utrecht last year, and Purcell's 'Sound the Trumpet' with my dad at Stour Music Festival. We attempted to replicate this performance last year at a family dinner party, drunkenly and unaccompanied, with decidedly mixed results. When have I felt most emotional while performing? Again, this is an earlier memory that remains stark: 'What is our Life?' by Orlando Gibbons, with Fretwork at my grandmother's memorial service (my dad was singing, I was playing the recorder).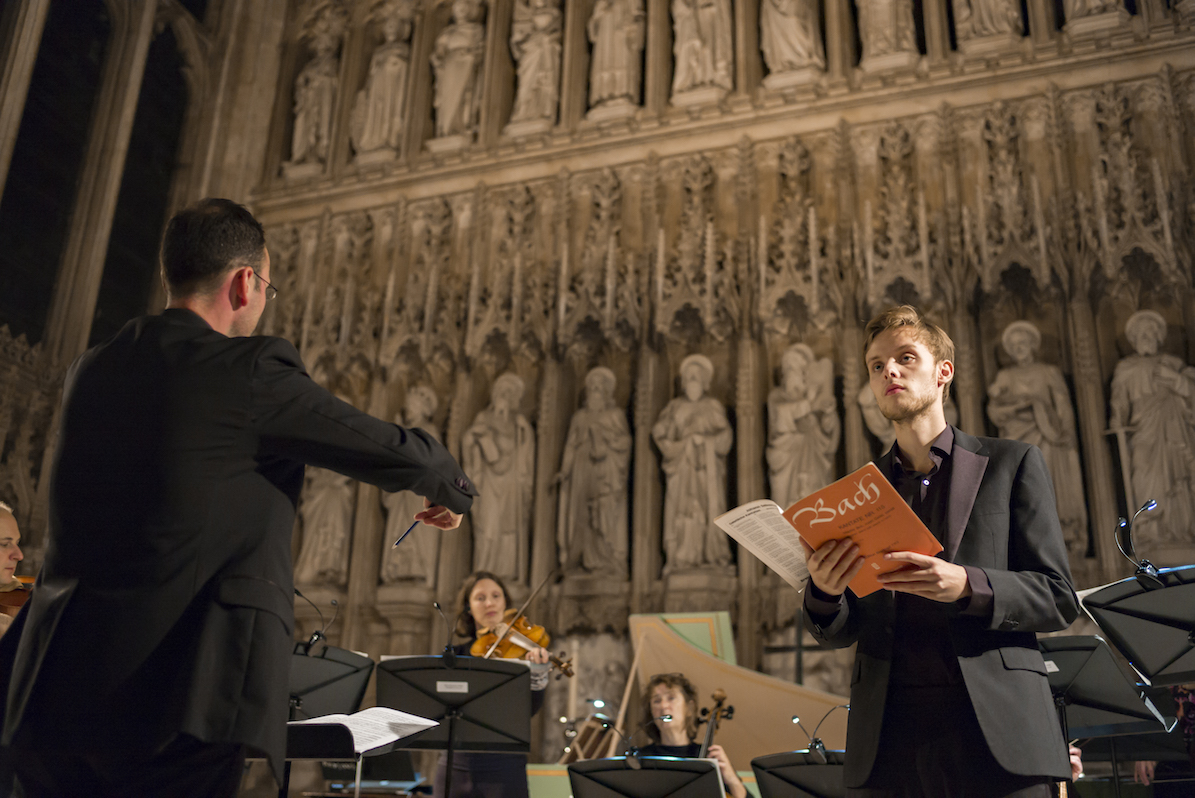 How does Bach's St John Passion compare to the demands made for the alto in other repertoire?
Memories are indelibly linked to place, and my formative memories of the St John Passion come from Oxford. We performed the piece three times in my four years at New College (as well as taking it on tour to San Francisco while I was there), and so it's very special for me to be able to keep returning to perform it in the Chapel, to renew and refresh this personal relationship. Bach, as he so often does, invests a huge amount of the emotional weight of the piece in an alto aria, in this case 'Es ist Vollbracht': it is the last music we hear before Jesus' death, it silences the baying mob (played by an angry and vengeful chorus), and it shifts the mood from grief and mourning to hope. Technically, the St John Passion places fewer demands on the alto soloist than the St Matthew Passion, which, put simply, has far more for the alto to do. But performing as a step-out soloist (that is, singing as part of the chorus and then stepping forward for the arias) presents its own challenges. Trying not to lose one's voice before Es ist Vollbracht, for instance!
What do you see as the value of ensembles like Oxford Bach Soloists to emerging younger musicians?
Performing with Oxford Bach Soloists is the perfect way for young musicians to encounter and embrace some of the most beautiful and challenging music ever written. Each singer within the ensemble is given his or her moment to shine as a soloist, led by a hugely encouraging and dynamic conductor who gets to the heart of Bach's music. Similarly, the calibre of the instrumentalists along whom we work is at the highest level. In particular (and without wishing to embarrass her), it has been my great fortune to sing Es ist Vollbracht with Susanne Heinrich, the incredible viol player, every time I have performed with OBS. I can't think of anyone I'd rather sing it with. ∎
Read more: