Tell us a bit about yourself, and your training to date?
For me, it all started with years of to-ing and fro-ing from school with only my Mum, sister, and the complete works of ABBA for company. The transition from back-seat dancing queen to cassocked chorister didn't follow entirely without a hitch though, and a brief flirtation with the rugby pitch threatened to derail any future musical career.
Luckily, there's nothing like a broken leg to set you back on the (somewhat safer) musical track, and so the National Youth Choir, alongside the choir stalls of Wakefield Cathedral saw me move through the octaves during my teens, from chorister to choral scholar.
At Cambridge University, I was a choral scholar for 3 years atKing's College under Stephen Cleobury. With the choir, I was lucky enough to perform solos in venues across the world, as well as on TV and live radio. Striving for a healthy balance, I filled my spare time with yet more of the same, singing with many student-led groups, including Assistant Directing a cappella ensemble, The King's Men. After graduating, I spent a year as a lay clerk at Christ Church Cathedral. In Oxford, I discovered OBS, with whom I have now sung for nearly two years.
What other musical activities are you involved with?
I now live and work in London, where I direct Pembroke Academy of Music. Part of Pembroke House, a charity set up by students from Pembroke College, Cambridge in 1885, the Academy furthers their mission to provide access to opportunities for those who would otherwise miss out.
Today, there are too many barriers, economic and social, to learning and making music. For me, it's important that those of us who have enjoyed the privilege of musical experiences do something to change this.
While much of my time is dedicated to the Music Academy, I also work on fundraising and development at Pembroke House. Aside from this, I sing ad hoc in and around London with various ensembles, including Ensemble Pro Victoria, and enjoy returning home for occasional solo engagements with The Yorkshire Philharmonic Choir.
What attracted you to the Oxford Bach Soloists?
From the outset, it struck me that OBS set the bar really high, both in performance and rehearsal. As I got to know the group, though, it was the warmth of the people that drew me in. In terms of striking the balance between reaching for professional perfection and maintaining a light-touch, relaxed feel, the group is up there with the best in my experience.
What have you most enjoyed as an OBS choral scholar?
My first solo cantata (BWV 173a), a duo with fellow choral scholarAimee Presswood, is a memory that really stands out – not least because the fiendish bari-tenor part proved to be one of my biggest musical challenges to date. Overcoming the technical difficulties and getting stuck into the details of interpretation and nuances of language during rehearsals and coaching was really exciting.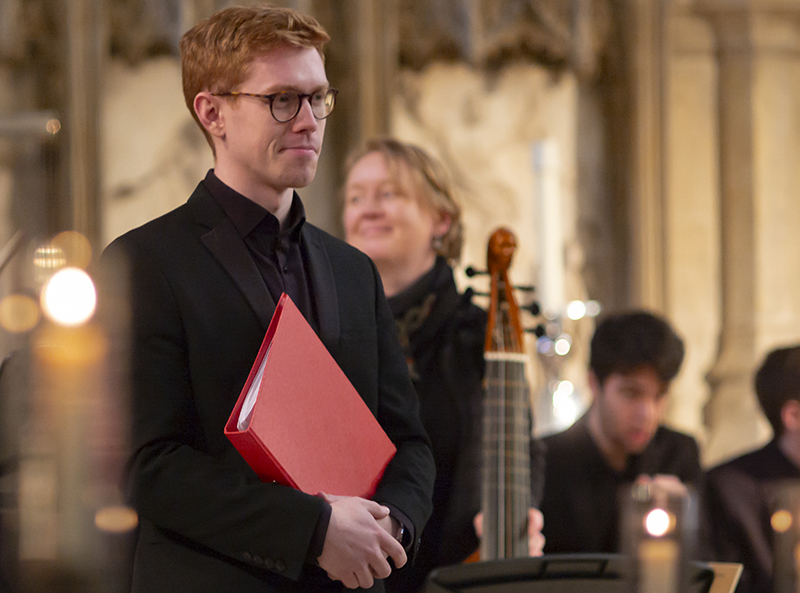 What do you see as the value of ensembles like OBS to young aspiring musicians?
OBS provides a supportive pathway into what can seem an intimidating industry. Solo opportunities with such a high-quality period ensemble are few and far between as a young singer – accessing them in a safe space that breeds confidence is even rarer.
What are your future plans?
Who knows – for me, the name of the game isn't having a linear 5-year plan! At the moment, music education and charitable workhave come together in an exciting way and I'm keen to gain more experience in both areas while continuing to develop vocally.