Tell us a bit about yourself, and your training to date?
I grew up in Toronto, Canada and at the age of four was handed a tissue-box-and-stick-makeshift-violin, which was my first introduction to classical music. The box eventually turned into a real violin, which I continued to study for twelve years. During that time I began my singing career with the role of Sunflower #4 in The Lion, the Witch, and the Wardrobe in which I sang 'Here Comes the Sun'. Another early highlight was playing Danny Zuko in Grease.
At the age of eleven, I joined the Canadian Children's Opera Company (CCOC) – a Toronto-based company that commissions operas for children – which sparked my love of opera. Through the CCOC, I also had the opportunity to sing with the Canadian Opera Company as the Second Spirit in The Magic Flute, and the Shepherd Boy in Tosca. I began taking lessons with Kyra Milan, who helped prepare me for undergraduate music auditions.
I went on to a Bachelor's in Classical Voice Performance at McGill University where I studied with Dominique Labelle, followed by my move to Oxford where I completed an Mst in Music and studied with Caitlin Hulcup and Florian Thomas.
What other musical ensembles are you involved with?
Since I moved to Oxford in 2017, I have performed on numerous occasions with New Chamber Opera Studio, which is an opera company run by Michael Burden that provides young singers the opportunity to perform large operatic roles. Singing the role of Anne Trulove in The Rake's Progress particularly stretched my ability as a singer.
Last year, I also performed with the Korrigan Consort, which is an all-female consort whose aim is to give female voices a greater platform to perform. On Sundays, I sing at St Michael at the North Gate as part of an octet. Finally, last year I performed The Cave by Steve Reich – the first student production of that piece – with the Oxford Alternative Orchestra.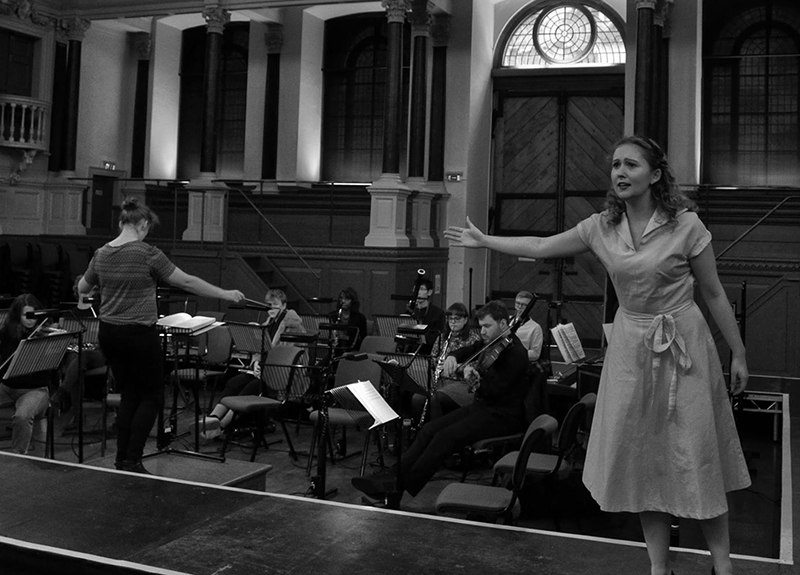 What attracted you to the Oxford Bach Soloists?
What immediately drew me to the Oxford Bach Soloists was the opportunity to perform solo and choral works with a professional band in an industry that can often be hard to break into. I have a particular interest in the German language and was excited by the prospect of developing a clearer way of communicating in German. Additionally, I was attracted to the idea of spending the year building a community around a love of Bach. It's a special opportunity to support and learn from the same group of likeminded musicians for an entire year.
What are you most looking forward to as an OBS choral scholar?
Of course, I'm looking forward to spending a year immersed in Bach's music, working meticulously on my German diction, and performing with very talented musicians, both in the band, at the conductor's stand, and in the cohort.
However, during my undergraduate degree, I did some research into how Bach employs the soprano voice in both his cantatas and his oratorios, and in our most recent concert, I experienced my research first hand when I performed an aria in which Bach paired oboes-da-caccia with text which spoke of God's mercy and used the soprano voice to represent the mortal believer.
What do you see as the value of ensembles like OBS to young aspiring musicians?
Firstly, the coaching from both Tom and Gerhard are invaluable. Bach's cantatas are rich and complex, and it's a privilege to analyse them through a scholastic and musical lens in the setting of coaching. When you're no longer enrolled in a conservatoire, it is difficult to access this kind of intensive language and musical coaching – especially with regards to performing works by Bach. Furthermore, as a young aspiring singer, there is deep value in having the chance to perform with a professional band with which you feel 100% supported.