Tell us a bit about yourself, and your training to date?
I studied Music at the University of Manchester and then did a Masters in singing at Trinity Laban Conservatoire. I perform as a choral singer and a soloist in a range of oratorio and opera, and also enjoy giving song recitals. My favourite solo repertoire is probably late-Romantic lieder like Schoenberg and the Mahlers. I've always enjoyed teaching and I am currently a singing teacher at two London schools and for the London Oriana Choir. Outside of singing, I enjoy working in my allotment and hiking, most recently walking parts of the South West Coast Path with my sister this April.
Which other musical ensembles are you involved with?
I'm a regular soprano for the Chamber Choir of London and the Philharmonia Chorus, and have sung with a range of groups including The Sixteen, Armonico Consort and Siglo de Oro. I am often engaged as a soloist for oratorio, most recently singing Iphis in Handel's Jephtha for Grantham Choral Society, Monteverdi's Vespers for Summertown Choral Society, and Haydn's The Seasons for Godalming Choral Society.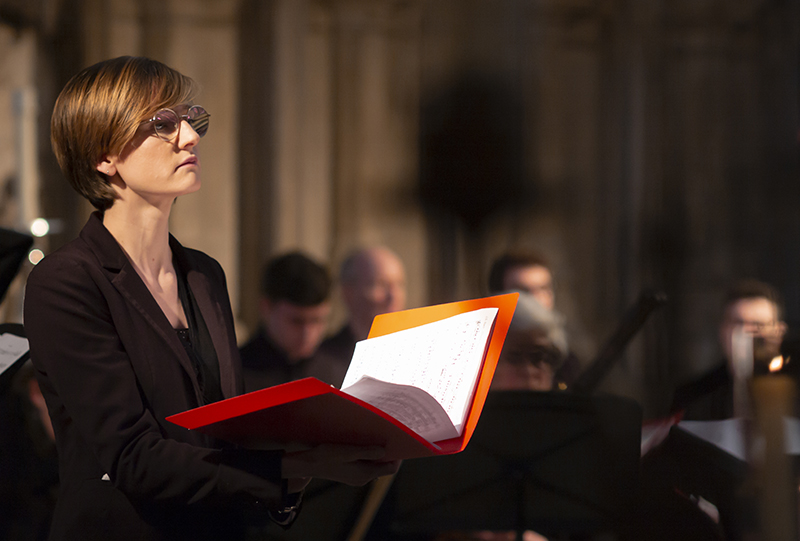 What attracted you to the Oxford Bach Soloists?
I love singing Bach, and I was keen to develop my understanding of the style of this repertoire. I also love all things German, and am currently learning German in evening classes, so the chance to immerse myself in the language and have language coaching as part of the scholarship was very attractive. Being able to sing with such an excellent band is also really special and one of the highlights of every OBS concert for me.
What have you most enjoyed so far as an OBS choral scholar?
Learning the two solo cantatas I've performed this year – 202 and 186 – has been really good fun. I'm very excited for 2 June. Singing with the orchestra is always really exciting and I've learned a lot from the players this year, particularly regarding ornamentation. Singing in the beautiful chapel at New College is also very special.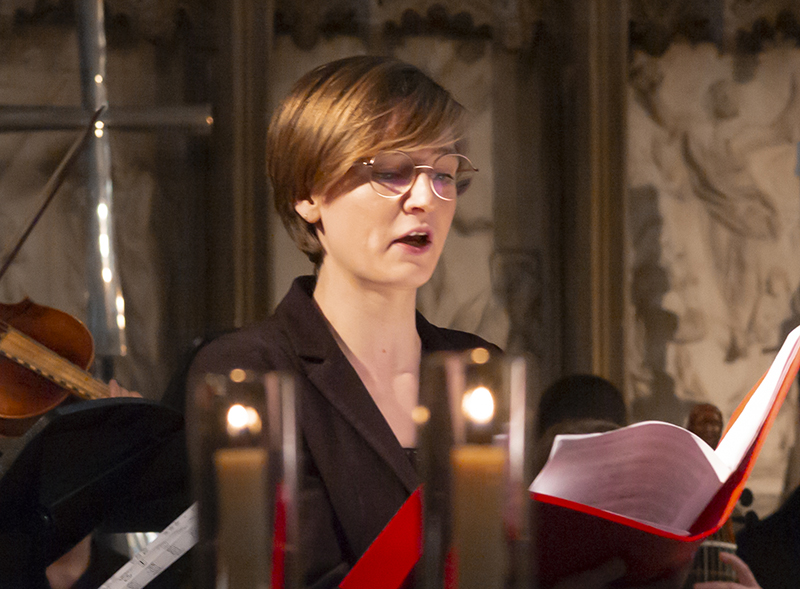 What do you see as the value of ensembles like OBS to young aspiring musicians?
It's very useful to be part of a training scheme with other people at similar stages in their training, where the focus is on your development, because it offers a safe and encouraging place to take risks. It's also very helpful to have coaching sessions with Gerhard to improve our German.
What are your future plans as a singer?
I hope to keep developing my skills as a soloist particularly in early repertoire and lieder. There is a lot of early-twentieth century chamber music with soprano which I'm yet to explore. I think it's likely I'll do further study into vocal pedagogy or some other aspect of music education at some point, and I think my future career will always involve performing and teaching concurrently.