Tell us a bit about yourself, and your training to date?
I am a second year Music student at New College where I'm also a choral scholar. I started singing under Suzy Digby at age five and she was the first person I remember who not only ignited my love for singing but music in general. My most rigorous training however came at school as a member of my school's Schola Cantorum, which involved many opportunities such as singing at Covent Garden and performing concerts alongside professional orchestras. I also sang as a cantor at Westminster Cathedral during the weekends, and deputised for many church choirs in central London. I currently study with Bronwen Mills.
Which other musical ensembles are you involved with?
I  have a busy schedule as a soloist and recitalist outside of New College Choir, having performed roles with New Chamber Opera and sung as a soloist with groups such as the Oxford University Chorus. I am currently learning Schubert's 'Winterreise' which I hope to perform later this year, alongside Bach's secular Italian cantatas. 
I enjoy conducting from time to time – I have just finished my role as musical director of the New College Chamber Orchestra which I founded in my first year. I was fortunate to have conducted Bach's cantata 'Mein Herze schwimmt im Blut' and Handel's 'Dixit Dominus' as my final concert, with fellow OBS choral scholar Steph Franklin as soprano soloist and with musical director Tom in attendance! Added no pressure, at all…
What attracted you to the Oxford Bach Soloists?
I have grown up listening and performing Bach's music and it has naturally grown into me too. At Oxford, in addition to continuing my opera and recital work, I really wanted to continue performing Bach's music on a regular basis. But as someone who is not only a fan of Bach's oeuvre but also curious to discover more of his works, particularly his cantatas, it was only natural I joined this project. And so far, OBS has done nothing but stimulate further my life-long fascination of the great composer.
I have always wanted to perform Bach's choral works with a HIP (historically informed performance) group in a sacred venue, given that I have always preferred listening to period recordings of Bach. I'm no advocator of 'authenticity' when it comes to period performances – I just find the sound HIP groups produce incredibly refreshing, full of rigour, and a sound that I prefer listening to, and indeed, performing Bach's music to. Furthermore the splendorous setting of New College Chapel only reinforces the deeply sacred intentions of this music.
What have you most enjoyed so far as an OBS choral scholar?
As an aspiring soloist, the opportunity to be given numerous solos to perform with a group of professional singers and players in professional concerts is nothing but the perfect training. The opportunity just to sing alongside musicians who perform in some of the best period orchestras in the world is extremely motivating, but the responsibility of preparing solos, both musically and linguistically (through our work with Gerhard, our language coach) is so rewarding.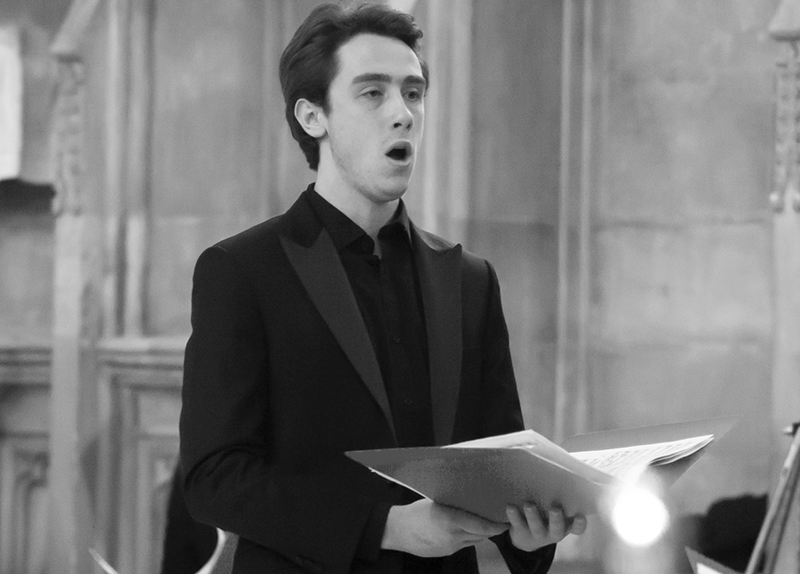 What do you see as the value of ensembles like OBS to young aspiring musicians?
It's very rare you find yourself at University with the opportunity to perform with a professional group, with acclaimed professional players and singers, and giving professional concerts. It's invaluable.
What are your future plans as a singer?
I would love to continue my studies at conservatoire and my ambition is to go into opera. In the meantime I continue to enjoy the myriad of singing opportunities Oxford has to offer and my work with OBS.