Tell us a bit about yourself, and your training to date?
I'm a second-year music student at The Queen's College, Oxford. I took a couple of gap years between school and university, and during that time I got involved in lots of choral singing, which was already a significant part of my musical background, having first developed a love of singing in my local church choir, as well as moving to Berlin for a year in order to learn German. Ever since I started singing in choirs I have taken singing lessons, and more recently I have been focussing my vocal tuition towards performing as a soloist, although I always hope to keep some ensemble performance in my portfolio because I think it is so important to musicianship.
Which other musical ensembles are you involved with?
I have sung with Schola Cantorum of Oxford since arriving here for university, and last year I sang as a Choral Scholar in the Choir of the Queen's College, as well as in the Oxford Gargoyles (a foray into jazz a cappella!). I also sing with ensembles such asCantata Dramatica, The Blenheim Singers, and Untune the Sky.

What attracted you to the Oxford Bach Soloists?
First and foremost, I was drawn to OBS by a love of Bach's music!I suppose it must have something to do with training during my teenage years as an organist, in addition to a love for the German language (something which blossomed during the gap year I spent in Berlin). Before joining OBS as a Choral Scholar, the only choral works by Bach I had performed were some of the Motets and the St John Passion; I knew little of the wealth of vocal and choral music in the Cantatas. When I heard that there was a professional ensemble in Oxford that specialised in performing the works of Bach, I couldn't believe my luck and haven't looked back since.
What are you most excited about as an OBS choral scholar?
I am most excited about the chance to perform concerts with OBS: performing with both such experienced instrumentalists and a chorus comprising brilliant singers is an exhilarating experience. I am particularly looking forward to performing the St John Passion, which I was lucky enough to perform with OBS last Passiontide. That performance has stuck in my memory as one of the most powerful musical performances that I have ever been involved in.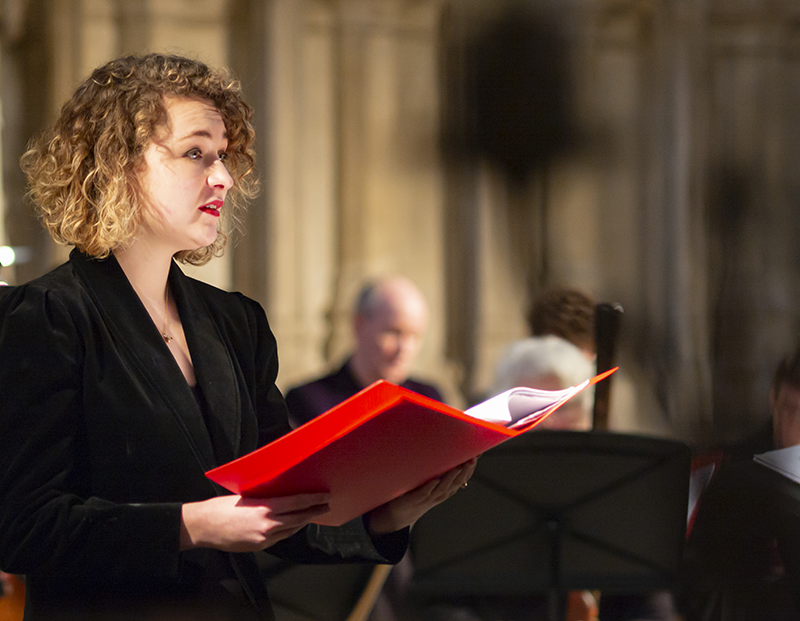 What do you see as the value of ensembles like OBS to young aspiring musicians?
OBS has so much to offer to musicians, and especially to young performers at the start of their professional careers. The opportunity to perform with a professional ensemble regularly not only gives performers first-hand experience of working and performing in an experienced Baroque ensemble, but also guides them through the process. Similarly, the chance to work with aGerman language coach enables young singers to improve their language skills to a level that most other young performers do not have the chance to. Most exciting of all though, for me at least, is performing with both such incredible instrumentalists and choir.
What are your future plans as a singer?
After I complete my studies at Oxford, I hope to study for a Masters in Vocal Performance at a conservatoire, with a long-term goal of pursuing a career as a soloist. At the moment I am considering applying to conservatoires in both the UK and also in Germany.